The SmartCONNECT platform has been launched, and several hoteliers are already successfully using this new solution. In this interview with Pitrik (founder of SmartHOTEL) and Quinten (Chief Growth Officer), you'll learn more about what SmartCONNECT is and what it can do for you.
Do you need some more information about SmartCONNECT first? → About SmartCONNECT
A recognisable scenario
Are you using different hotel software solutions, such as a PMS, RMS, channel manager and Payment Gateway? All these automated technologies should be freeing up your time, but it doesn't always feel like that. Should there be problems with just one of your software systems, it can cause you sleepless nights. You might think about switching to another solution, but that's easier said than done as you're dependent on available integrations with all the other systems. This makes it hard to choose the system that works best for you. If only there was a solution for that...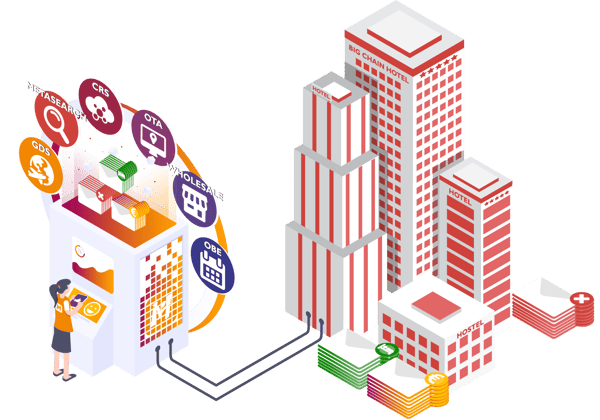 The solution is SmartCONNECT
The solution is available with SmartHOTEL's new product suite, called SmartCONNECT. So what is it exactly? "It's a solution to integrate different specialised hotel technologies. Each specialism continues to do what it is good at, while we do what we are good at: connectivity", Quinten kicks off. Pitrik then adds: "SmartCONNECT is a platform that can connect different hotel systems. We are now familiar with the type of connection 'PMS-channel manager-booking site', but SmartCONNECT also links your payment system to the PMS, for example".
That's interesting! SmartCONNECT for Payment (the name says it all) offers a connectivity solution for payment providers. We often see that the payment provider (e.g. PayByLink or WorldLink) doesn't have a direct connection to the hotels PMS. This results in having to use the external system manually, taking up precious working hours. However, this can be done more efficiently. SmartCONNECT for Payment connects to your systems together and reduces your workload. Also, the PCI security improves; SmartCONNECT for Payments handles the credit card details, keeping the hotels and their PMS system out of the scope.
What hoteliers say about SmartCONNECT for Payment:
"I have less manual work, which saves a lot of time and (employee) costs."
"The customer experience is more positive; the payment is almost always made in advance, so the guest is no longer confronted with financial matters at the counter."
"My liquidity is higher, because payment is almost always made in advance."
"The credit card details of our guests hardly ever have to be looked at again, because the transactions are automated."
How did the SmartCONNECT product suite arise?
"A popular reason is many hoteliers want to use a specific payment system, and it is often impossible to integrate it with the PMS", Quinten says. "We go for freedom of choice and no longer want to be dependent on integrations between different systems. SmartCONNECT acts as an independent platform, striving to connect all systems," Pitrik explains.
Building an integration between two systems takes time, especially for hotel tech companies that are not specialised in this field. However, SmartHOTEL has over 16 years of experience in connectivity and will continue to focus on this with the new platform. This way, each hotel tech provider can continue to do what they are good at and can continue to focus on their own specialism.
SmartCONNECT: what type of hotelier is it for?
The next logical question is who SmartCONNECT is for. Pitrik explains: "We want to help hoteliers that are interested in far-reaching automation for their business. That can be both large and small-scale hotels".
For example, a small-scale Dutch hotel might use SmartCONNECT for Payment, so that the few people who work in the hotel can focus on other tasks.
Another example is a large hotel chain in the UK & Ireland, who have been using SmartCONNECT for Channel Management since the beginning of the year. Previously they used the OHDCS CRS interface to connect to the SmartHOTEL Channel Manager. They told us they wanted a faster connection and no more middlemen. Thanks to SmartCONNECT for Channel Management, they now have a single direct interface and faster support responses. Soon they will start using SmartCONNECT for Payment as well.
Learn more about SmartCONNECT for Channel Management.
Quinten indicates that not only hoteliers' benefit from SmartCONNECT: "It is also interesting for specialist software parties, such as a booking site or payment provider. When they join SmartCONNECT, it is possible to integrate with many more parties that were previously unreachable. The potential reach suddenly becomes much greater than just that one hotel software integration".
What does the future of SmartCONNECT look like?
As the founder of SmartHOTEL, Pitrik is always busy with new opportunities. When asked at the end of the interview about the plans of SmartCONNECT, his eyes start to twinkle: "At the moment SmartCONNECT is there for payment gateways, channel managers, PMS and RMS systems. In time, we can expand the platform even further, by integrating it with upselling tools, for example".
In a world where hoteliers are often stuck with their hotel systems, SmartCONNECT seems to open up a new market. Also, for software providers, this is the chance for a broader hotel reach. Surely by now, you are enthusiastic about the possibilities this new platform could offer you. If you have questions about what SmartCONNECT is and what it can do for you, feel free to contact us.
About SmartCONNECT
SmartCONNECT is the name of the full product suite. Currently, it consists of the following four platforms: SmartCONNECT for Payment, SmartCONNECT for PMS, SmartCONNECT for Channel Management and SmartCONNECT for RMS. All four products can be used individually or together. This SmartHOTEL platform focuses on freedom of choice, independence, and specialism:
Freedom of choice: you choose software that meets your needs, without having to think about the integrations of the systems.
Independence: you are no longer dependent on the available integrations of hotel technology.
Specialism: you can count on better quality integrations because from now on, every hotel software provider can focus on its own specialism.
Related articles:
About SmartHOTEL
For more than 16 years, SmartHOTEL has been helping hoteliers navigate the exciting world of online distribution. From our office based in the Netherlands and the United Kingdom, our team serves independent hotels, hostels and chains worldwide by providing channel management and tailored online distribution solutions. A lot has changed over the last years, but our goal remains the same: simply connect hotels to the world. For any questions regarding our services, please contact us at sales@smarthotel.nl or call +31 (0)182 75 11 18.
Share This Story, Choose Your Platform!