A new product that cuts out central platforms and 3rd party interfaces for Opera PMS customers
Talking to all kind of OPERA PMS users; from an individual mid-size hotel to chain revenue/distribution experts and IT managers, it is all about API and data exchange. There is no doubt that there is a high demand for connecting all kind of solutions for exchanging data. Think about connecting a PMS, revenue management software, recommendation software and online sales channels (OTA's, GDS's and IBE's). SmartHOTEL now offers a resolution for this demand: the OPERA Xchange Interface (OXI).
The purpose of the OPERA Xchange Interface (OXI):
Real-time availability upload and dynamic rate syncing results in better revenues, more efficient online sales and therefore, higher profitability.


How does the purpose reflect on the API of the world's largest PMS vendor, Oracle Hospitality?
Most PMS vendors have an API that has been written for fast and secure implementation. It provides a direct connection to realize the synchronization of data to be used for the real-time availability upload and dynamic rate syncing. Oracle Hospitality is using the OPERA Xchange Interface (OXI) to fulfil this demand for a direct data transfer from the PMS to the outside online world.
The OPERA Xchange Interface is capable of exchanging (nearly) all available data captured in the fields of the OPERA PMS solution. The synchronisation options are endless and can also run individually, in no particular sequence and at any time to the external system. One of the advantages of this is the ability to resend all reservations that were not retrieved from the Channel Manager during the original transmission.
What is the added value of the OXI?
SmartHOTEL offers a direct connection to the best tech vendors, enabling hoteliers to boost their online sales in its most dynamic and efficient way. Those tech vendors create API's that provide real-time data, historical insights of the guest stay records and pre-arrival information in the coming days. This data helps hoteliers to optimise rate-, availability- and restriction-uploads for specific room/rate combinations, as well as the length of stay combinations, to generate the best price per booking.

What makes the OXI so attractive?
OXI processing is always asynchronous, even though some of the common communication mechanisms such as 'HTTP' support synchronous communication. When OXI receives data from SmartHOTEL, it may be queued for processing, instead of immediately processed. A synchronous response is provided to notify the status of the receipt of the message. The response will be either that it has been successfully received, or that an error occurred while receiving/queuing the message. This results in an extremely efficient data transferring process.
If we compare this to centralized platforms that are working with synchronous data transfer, like other PMS API's and OTA interfaces, it is no doubt that the performance dramatically differs from the SmartHOTEL OXI interface to OPERA.


How does the OXI work in combination with Channel Management?
When the OXI is implemented as a 2-way interface, the most fundamental operation it performs is pushing rates, availability and restriction data to the distribution provider and retrieving the bookings back into the OPERA PMS. The OXI needs to be configured for Channel Management in order to do so. The main functionalities that are currently supported in the OPERA Xchange Interface:

It has been proven with most Oracle OPERA customers that Channel Management directly interfaced with OPERA is the best way to exchange data for Online Distribution, instead of via Oracle Hospitality Cloud Services (OHDCS formerly called myfidelio.net).
SmartHOTEL collects the data from OPERA to distribute to OTA's, GDS's and IBE's as a most common structure. However, we see more customers requesting for enriched data transfer by adding a revenue management tool as an add-on next to the OXI.
In most situations, we add the revenue management tool called IdeaS that can collect the rates from OPERA and adds smart rate predictions based on its algorithms. SmartHOTEL ensures that both Opera and IdeaS upload run simultaneously into the hotel's distribution network.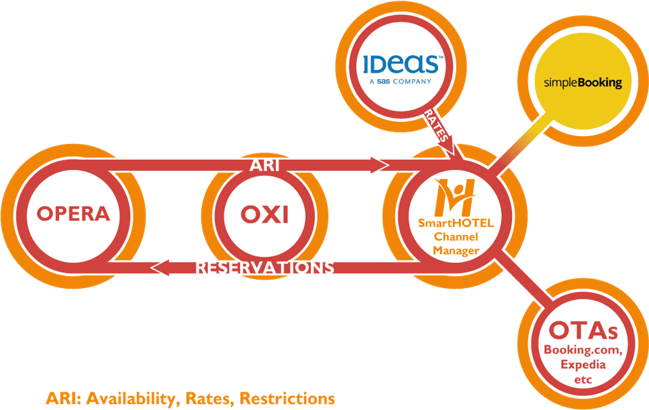 What's next?
Our tests and pilots are completed; the interface is validated and listed in the Oracle Catalogue under: OPX_SMARTCHANNEL. We are proud to provide Oracle's customers with a solution that drives a more dynamic revenue stream and makes distribution more efficient by cutting out central platforms and 3rd party interfaces. Due to continuous development, the direct connection to OPERA will contain innovative data transfers like guest profile export, stay records and payment data from PMS to 3rd parties. We are close to adding new functionalities for syncing all channels with data from OPERA by just one click. The release of this new interface is the start of a new and optimized journey of data exchange for the Hospitality Industry. If you want to learn more about the new interface, go to our website or get in touch with us!
Derreck Weterings
Director of Strategy & Solutions
SmartHOTEL
Tel: +31 182 75 11 18
derreck@smarthotel.nl
www.smarthotel.nl
About SmartHOTEL
For more than 16 years, SmartHOTEL has been helping hoteliers navigate the exciting world of online distribution. From our office based in the Netherlands, our team serves independent hotels, hostels and chains worldwide by providing channel management and tailored online distribution solutions. A lot has changed over the last years, but our goal remains the same: simply connect hotels to the world. For any questions regarding our services, please contact us at sales@smarthotel.nl or call +31 (0)182 75 11 18.
Share This Story, Choose Your Platform!