This blog was written in response to the webinar: 'Unravelling the psychological secret of Booking.com', given by Unravel Research at 20-5-2020.
There's a reason why Booking.com is still one of the most popular booking platforms worldwide, and not just lack of competition. Booking.com's original recipe is far from innovative, but very few booking platforms are as focused on the booker's journey as they are. The website is continuously testing, measuring, and adjusting influencing techniques that make it more attractive for the visitor to book a room. In this blog, four of these techniques are discussed, and we give tips on how to apply them to your hotel website!


Framing

Framing is a technique in which the visitor is influenced by tone and language. By using the right phrasing, you can persuade visitors to take the desired actions. Booking.com applies this everywhere on the website and in the booking process. They do this by:  


using

the

imperative

that

focuses

on

the

result

,

not

the

required

action. 




'Find deals...', the first sentence on the website focuses on the desired result for the visitor, not on the actions to be performed (For example: 'search'). This makes the booker more likely to act.





addressing the booker personally and asking specific questions.  




In the search bar, you will see 'city' or 'destination' on most booking sites, but at Booking.com it says: 'Where are you going?'. People are more likely to answer questions.





writing in the first person when the booker needs to indicate preferences and choices. 




To indicate whether it's a business- or leisure trip, it doesn't just say: 'business trip' but 'I'm travelling for work'.  




▶️ This is how you apply framing to your hotel website.
Framing is the easiest trick to apply to your website, as you don't need any applications or other tools except a small change in your mindset. Many hotel owners tend to go directly to the how, what, where and why of the hotel itself on the homepage. That's not a bad way to do things; in the end, you want to show visitors why they should choose your hotel. But what do you expect from them? What should they find or do on the website? Try to play with more active or personal words. Ask a question or formulate an action and immediately send them in the right direction (booking engine or contact page).
Scarcity

Scarcity has been a famous influencing trick within the marketing world for decades, but Booking.com has taken this stress technique to a new level in recent years. Why does this work so well? When a warning is given, our brain subconsciously reacts and unconsciously makes assumptions (bias). We provide two examples of this: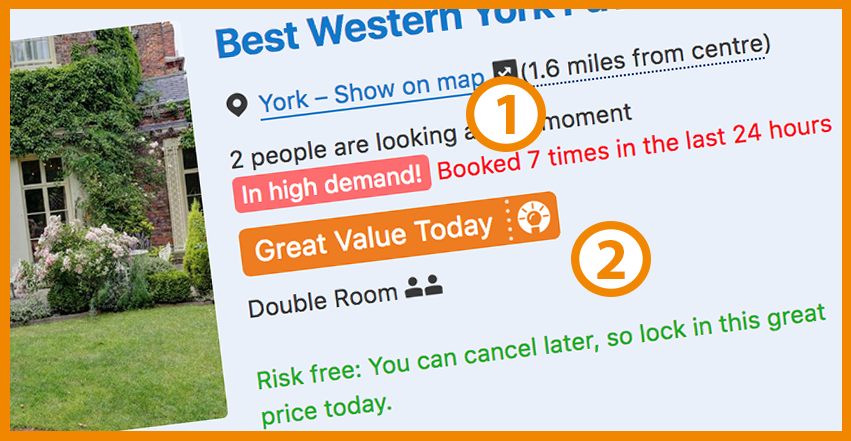 Base rate neglect




Although the title suggests otherwise, base rate neglect has nothing to do with neglecting your hotel room base rates. Base rate neglect is a person's tendency to react quickly to a

'

crisi

s'

without taking all the relevant data into account.





Booking.com

plays

to this with alerts such as: '

Booked 7 times in the last 24 hours'

. As a visitor, you

are tempted to book fast

, just

in case

,

there aren't any rooms left

. Plot twist: there

is a big chance that the

se 7 others didn't book for the same

data

or

room at all.






Loss aversion




Loss aversion is the psychological effect in which losing or missing out on something (in this case a room) outweighs the value of the actual buy.





Booking.com cleverly applies this theory with texts like '

Great value today

'. Probably the booker hadn't yet

decided on

the room or hotel in question, but the idea that he can miss out

on a gre

at deal

pu

shes

him more quickly into action.



▶️ This is how you apply scarcity to your website.
You don't need exaggerated algorithms or live visitor information to create the scarcity effect on your website. For example, you can put a notable text, like: 'Almost fully booked for the high season!' If you want to work a bit more professionally, there are booking engines that you can place on your website that also respond cleverly to scarcity. The Smart Booking Engine does this, for example, by indicating how many rooms are left for specific dates: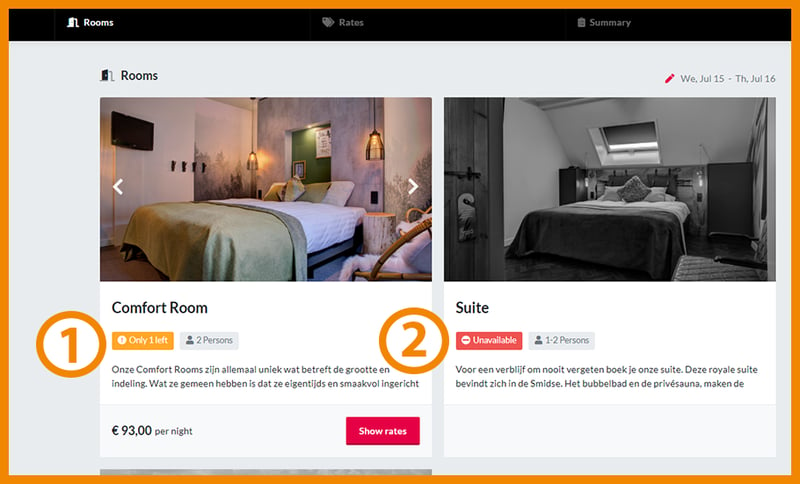 The booking engine indicates that there is only one Comfort Room left for the selected dates.



The booking engine shows that the 'Suite' is no longer available. This is another form of scarcity: the booker sees that he is choosing one of the last options.





Social proof
When people book somewhere, they want to know if they're making the right choice. Whether that choice is correct is primarily based on the opinion of others. You could write a book about social evidence techniques at Booking.com, but to keep this a simple blog, we'll just show you a few examples: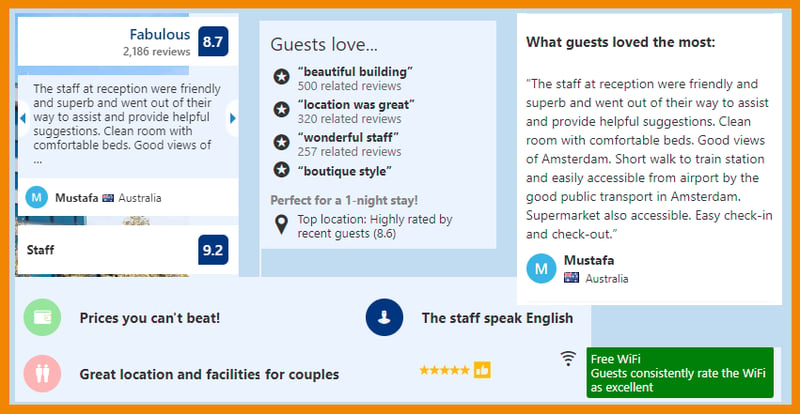 ▶️ How to apply social proof to your hotel website 
It's an obvious one, but show your guest reviews or other achievements! Just like Booking.com, you can use social proof in different ways: 
The rating (

the

rate

or

number

of stars)

you

got

on

Google Reviews or

any

review

booking

site.  

Full reviews of individual guests, preferably with a name and picture

to give it credi

bility

. 

'Our guests love...' Name the strong points your guests have given to your hotel in reviews. 

If you have won hospitality awards, show them! 
Several booking platforms offer free review plug-ins for your website, such as TripAdvisor. 
Also interesting: Why guest reviews are important for your hotel.
Need for certainty
We all need clarity and certainty about the choices we make, especially in these uncertain times. People want to be sure about what they buy, how they receive it, how they pay and whether they can still cancel it after purchase. Apart from increasing stress levels by applying scarcity techniques, Booking.com also provides reassuring information at every step of the booking process. As an example, we look at the following image: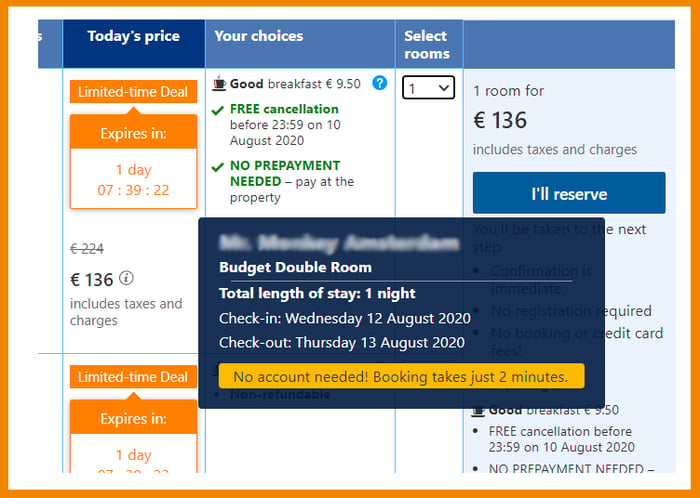 When the guest sees the price list, they are reassured twice more about the possibility to cancel and that they don't have to pay in advance. If they then hover over the book button without clicking it (a clear sign of uncertainty), they will see another pop-up with the chosen length of stay, the check-in and check-out dates and are assured that they don't need to create an account.
When the guest wants to complete the booking, they will see a short form explaining why the details are requested. For example, behind the email address, it says: 'the confirmation email goes to this email address'. That's just more reassurance for why they are providing the information and what it's being used for.
▶️ This is how you respond to the need for certainty on your hotel website.
If you have free cancellation arrangements or your guests don't have to pay in advance, then communicate this clearly during the booking process on your website. It seems scary, but this little nudge can lead to more bookings (from which most of them will probably not get cancelled). If people go through a process that has taken energy and time, there is little chance that they will come back to it. This is precisely the reason why popular shops are using longer and longer return policies. How often do you think the 365-day return option reassures IKEA customers compared to how often they use it? Make sure your booking process is clear and transparent, that you explain why you're asking for specific information and that you confirm everything at least twice on the website and then directly via an automatic confirmation email.
Want to learn more techniques?
Those were all the techniques and tips for this blog. In the next article, we'll discuss marketing psychology and how you can use it to turn your hotel website into a conversion machine. Among other things, we will cover the following:
Conditioning & Self-efficiency (You've chosen the best price!)

Present focus bias (This room is almost yours!)

Colour psychology (why are specific texts red or green?)

Plus

loss aversion (Never miss the latest news again)

Hobson +1 effect (Offer more actions: book directly or add to your wish list?)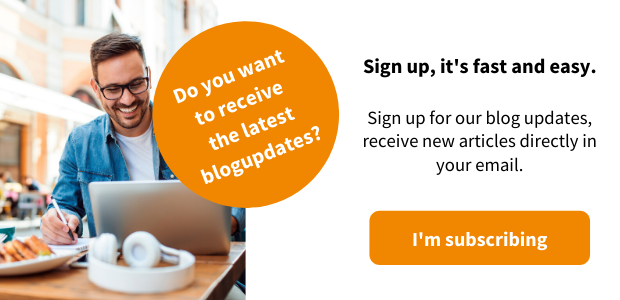 About SmartHOTEL
For more than 16 years, SmartHOTEL has been helping hoteliers navigate the exciting world of online distribution. From our office based in the Netherlands and the United Kingdom, our team serves independent hotels, hostels and chains worldwide by providing channel management and tailored online distribution solutions. A lot has changed over the last years, but our goal remains the same: simply connect hotels to the world. For any questions regarding our services, please contact us at sales@smarthotel.nl or call +31 (0)182 75 11 18.
Share This Story, Choose Your Platform!