Recently SmartHOTEL released the functionality Occupancy Based Pricing in its interface to Booking.com. This functionality empowers hotels to distribute rate amounts not only for single and standard use on the same rate code, but it can be extended for additional occupancies up to four persons now.
What is the value?
It helps hoteliers to maximise the occupancy rate by offering tailored pricing to the number of guests staying in a particular room. Figures from Booking.com show a predicted increase in room revenue of 3.5% compared to hotels that are using standard pricing settings.
Comparison of front-end standard pricing (left) vs Occupancy Based Pricing (right).
Source: Booking.com
Other benefits are related to the search criteria of bookers. Bookers search for suitable accommodations based on the criteria they filter on. When they look for a room that accommodates three persons, Booking.com will show only results containing a rate for three persons. The same goes for single, double, and twin rooms. Hotel properties will show up in all kind of search criteria matching the rate belonging to this occupancy.

Source: Booking.com
Last but not least, hoteliers can sell rooms which are of more value to guests and do not meet the standard filter criteria. Let's say you want to sell a triple room to two persons by using Occupancy Based Pricing. Because the double occupancy rate is activated for the triple room, it shows up matching the search criteria. Should you not want to sell the triple room for just two people then you simply just need to load the three-person rate.
An example of a rate setup will look like this:
Making use of standard pricing for a quadruple room:
Price per room = € 150, - per night
Making use of Occupancy Based Pricing for a quadruple room:
Price per occupancy:

4 persons € 150,- per night
3 persons € 135,- per night
2 persons € 120,- per night
1 person € 105,- per night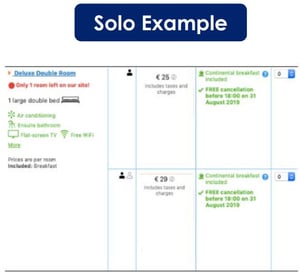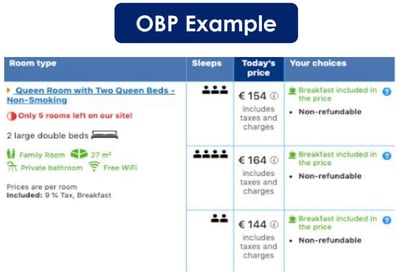 Source: Booking.com and SmartHOTEL extranet
How can it be activated?
We aim to have a minimal impact on manual input. Therefore, we stimulate the configuration change to be done by the PMS, the Channel Manager and Booking.com by using SmartHOTEL as the middleman. We use the Booking.com Partner Portal to switch properties from the standard pricing model to Occupancy Based Pricing model.
Hoteliers can contact the SmartHOTEL consultancy team via support@smarthotel.nl requesting for activation of this new functionality. We use a step by step procedure, changing the setup end-to-end from PMS to OTA, preventing errors.
About SmartHOTEL
For more than 16 years, SmartHOTEL has been helping hoteliers navigate the exciting world of online distribution. From our office based in the Netherlands and the United Kingdom, our team serves independent hotels, hostels and chains worldwide by providing channel management and tailored online distribution solutions. A lot has changed over the last years, but our goal remains the same: simply connect hotels to the world. For any questions regarding our services, please contact us at sales@smarthotel.nl or call +31 (0)182 75 11 18.
Share This Story, Choose Your Platform!