We're very excited to announce that, 2 months ahead of our forecasts, we've just added our 50th property to SmartCONNECT for Channel Management!
While the world has mostly come to a stand-still over the last year the team at SmartHOTEL have been moving in strides to realise the future of online distribution. That solution is SmartCONNECT, a product suite that offers hotels full control of their online distribution to all their connectivity channels.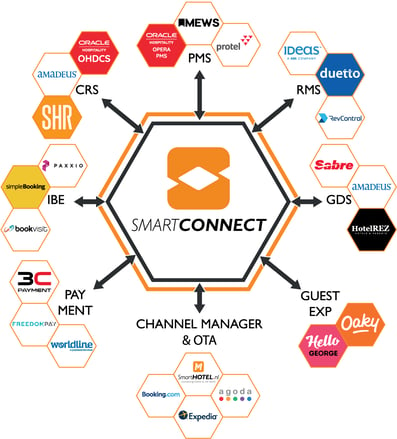 The concept itself was introduced back in 2019 when we were approached by a Global Hotel group that wanted a solution for their franchise hotels to connect directly to their CRS without the need to change their various Property Management Systems. In a world where hoteliers are often stuck with their hotel systems, SmartCONNECT opened up a new market, and 18 months on, the group has over 50 hotels using SmartCONNECT for CRS.
But then we got to thinking, surely we can expand the platform to include all types of connectivity solutions. The online world is changing quickly and our hotels have more distribution needs. They want speed, accuracy and new connections and they want it fast! However, many are limited on choice as they are reliant on the interfaces being offered by their PMS provider.
In just over a year, we have expanded SmartCONNECT to include connectivity solutions for Payment Gateways, Channel Management, RMS systems and Booking Engines. In time, we can expand the platform even further, by integrating it with upselling tools, for example.
Now we celebrate our 50th hotel connecting to SmartCONNECT for Channel Management and we know many of them will be including the Payment Gateways solution soon.
If, like me, you're enthusiastic about the possibilities this new platform could offer you and have questions about what SmartCONNECT can do for you, feel free to contact us.

About SmartHOTEL
For more than 16 years, SmartHOTEL has been helping hoteliers navigate the exciting world of online distribution. From our office based in the Netherlands and the United Kingdom, our team serves independent hotels, hostels and chains worldwide by providing channel management and tailored online distribution solutions. A lot has changed over the last years, but our goal remains the same: simply connect hotels to the world. For any questions regarding our services, please contact us at sales@smarthotel.nl or call +31 (0)182 75 11 18.
Share This Story, Choose Your Platform!