July is behind us, which allows us to have data for the first month of the summer high season. We were curious to see what the numbers looked like and wanted to know how the coronavirus (still) influences the hotel industry. Did the number of new reservations increase, how many arrivals were there and did the cancellations drop? We'll answer these questions with information from the SmartHOTEL database.
To better understand this article, it's important to comprehend the difference between arrivals and bookings:
Arrival: the stay date of guest.
Booking: the date in which the booking was made. For example, a booking may have been made in May for arrival in June.
The data for 2020 (up and until July) has been compared with data from 2019 for the same period.
Arrival dates, book dates and cancellations
A glimmer of hope in these challenging times: since the last coronavirus status update, we no longer see extreme declines in reservations. This is what our data shows:
In March 2020, the global hotel industry faced a crisis. The number of bookings fell by 63%, and the number of cancellations rose by 104% compared to last year. In April, the figures reached a low point: -93% bookings, -68% arrivals and +224% cancellations compared to 2019.
In May and June, we saw the figures improving slightly. In June we presented the first figures from SmartHOTEL, in which we started to see encouraging rises of reservations. This trend continued in July when the summer high season started for most regions. The number of bookings (+27%) and arrivals (+25%) increased that month (compared to May 2020), and the number of cancellations stabilised (-54% compared to May 2020).
When we look at arrivals for August, September, and onwards, we see that fewer overnight stays are being booked in advance. These figures confirm the reports from the media that bookings are mainly made at the last minute.
The article continues below. (click here to go straight to the text below)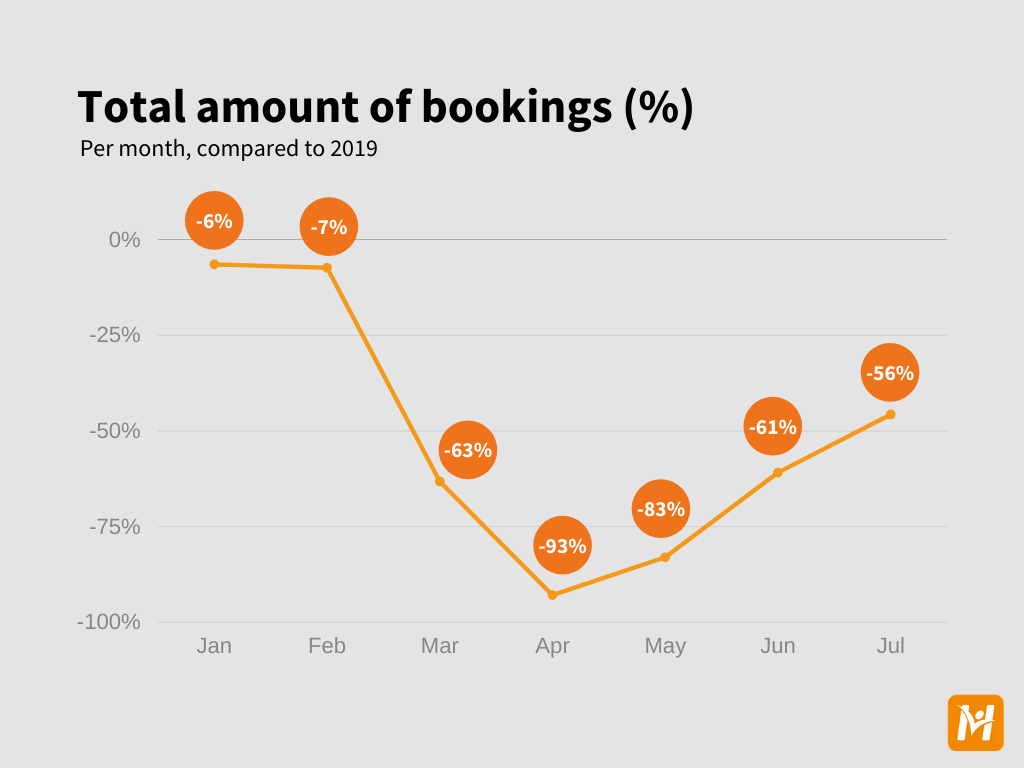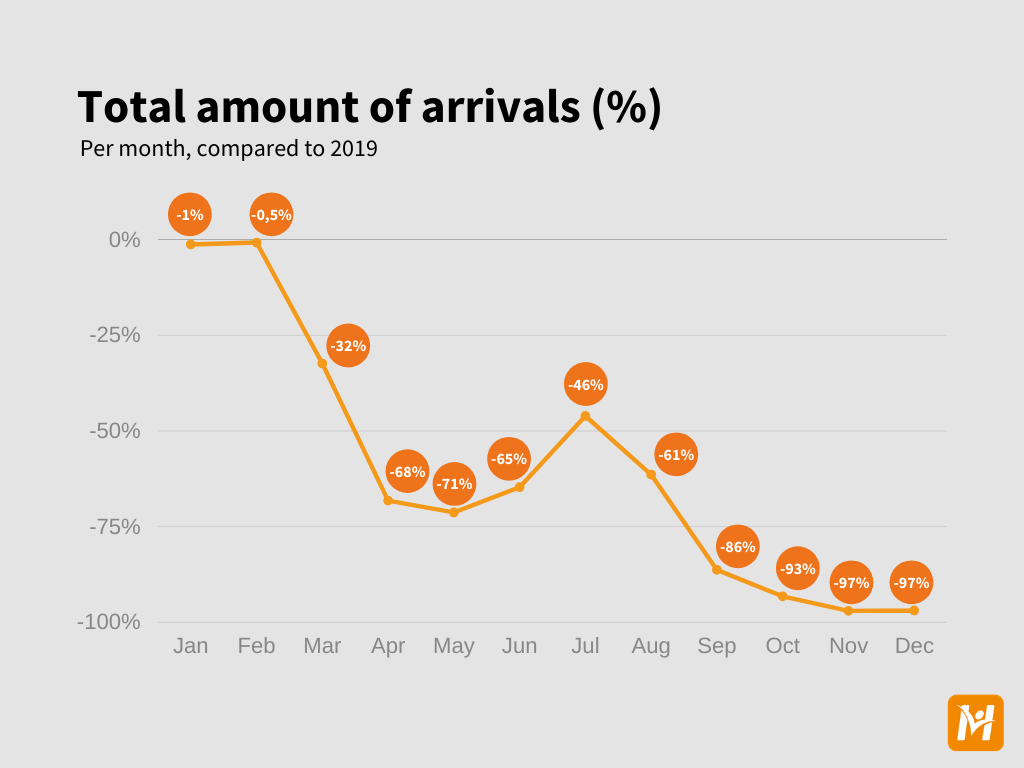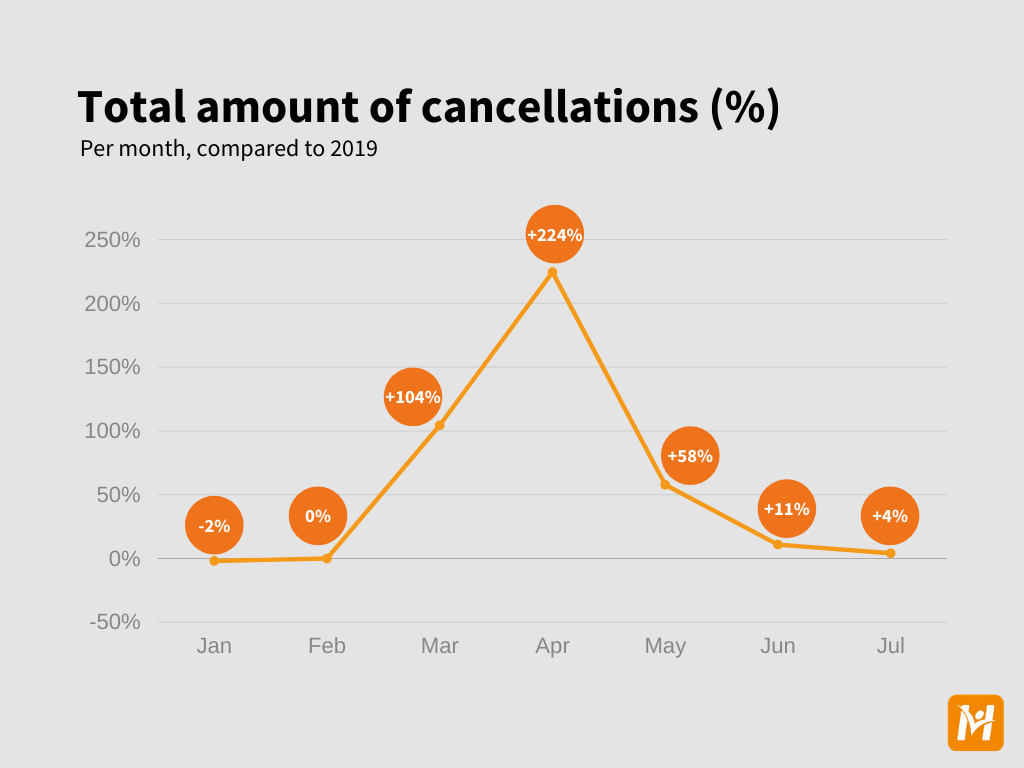 Highlighted: noteworthy data by country/region
The general, coronavirus figures do not necessarily apply to every country or region. We saw some noteworthy numbers, which is why we are highlighting a few countries separately. Click on the country to go straight to that update:
---
The Netherlands
The Netherlands shows remarkable figures. This is because, in July, we saw that 12% more bookings were made compared to 2019! That's small compensation from previous months. June also showed relatively good booking figures: -4.5% compared to 2019.
Dutch people seem to be going on holiday in large numbers in their own country. On average there were 10% more Dutch bookers since March, compared to 2019. Germans also started visiting the Netherlands in June: they made +7% more bookings compared to last year.
In terms of cancellations, we saw positive figures in June and July: June showed +1.2% cancellations compared to last year, and July a negligible +0.3%. We dare to say that the bookings made were actual revenue that had not been later cancelled.
Besides more bookings in July, there was also 7% more arrivals in July compared to last year. The Dutch went on holiday in their own country 10% more often in July. The Belgians were also able to visit the Netherlands; they came to stay 9% more in July than last year. We expect these figures to decrease in August, due to the closing of the border between Belgium and the Netherlands.
Nordic countries
(Denmark, Finland, Iceland, Norway, and Sweden)
The Nordic hotels also stand out in the data we have, but unfortunately not in a positive way. In April, thanks to the coronavirus, this region reached its absolute low with 95% fewer bookings compared to 2019. In the same month, there were 415% more cancellations compared to April 2019.
The number of arrivals per month remained between -63% and -72% from April to June. Fortunately, we do see an improvement in July: -37% more arrivals compared to last year.
Germany
In Germany, from June onwards, the number of cancellations started decreasing, and the number of bookings increased. Bookings in July increased by 50% compared to April this year. The amount of arrivals since June remains around -50% (compared to last year).
What is significant here is that the highest percentage of cancellations Germany received (+197%) is still lower than other countries such as the Nordics or Austria.
The United Kingdom and Ireland
The United Kingdom and Ireland have had a terrible year due to the coronavirus, even worse compared to other countries in Europe. This region experienced a booking low in April (-94%), May (-93%) and June (-83%). Even in July, the figures didn't seem to increase; there were still fewer bookings being made compared to March 2020, when the coronavirus made its appearance in Europe (-62% vs -67%).
Monthly arrivals dropped from April onwards and then remained steadily low. Fortunately, the number of cancellations has stabilised; +33% in June and +13% in July compared to last year.
Lockdown restrictions and hotels having to limit occupancy to maintain social distancing are most probably the reason for these low figures.
United States
It is striking, but perhaps not surprising: the figures from the United States are painful, to say the least. The number of bookings was minimal; since March there was on average -83% fewer bookings compared to last year. Arrivals per month were low, and seem to remain low for the foreseeable future. When comparing the figures from June to July, we saw an increase of only +5% arrivals in July.
To be continued...
In early October we will release a new COVID-19 update in which we can compare August and September. Hopefully, we'll see an increase in reservations again.
More about the coronavirus and the hotel industry:
About SmartHOTEL
For more than 16 years, SmartHOTEL has been helping hoteliers navigate the exciting world of online distribution. From our office based in the Netherlands and the United Kingdom, our team serves independent hotels, hostels and chains worldwide by providing channel management and tailored online distribution solutions. A lot has changed over the last years, but our goal remains the same: simply connect hotels to the world. For any questions regarding our services, please contact us at sales@smarthotel.nl or call +31 (0)182 75 11 18.
Share This Story, Choose Your Platform!