If you are Dutch and you are the owner of a hotel, you are in luck! Dutch hotels have the highest occupancy rates in 20 years, and future expectations do not disappoint either.
In 2016 the occupancy rate was 73,9% but raised in 2017 to a percentage of 77,2%. Only in 1997, the average occupancy rate was even higher. For 2018 they expect the percentage to rise even more, to 78,7%. Even for 2019, 48% of the Hoteliers expect a growth of the occupancy rate. Amsterdam and Schiphol airport area is the growing glory of occupancy rates, it raised from 82,2% in 2016 to 85,1% in 2017. Now, halfway 2018, Hoteliers in the Amsterdam area confirm their occupancy rates are over 90%. Holy hoteliers, that's a lot!
Your business is probably growing, but keeping track of the room inventory and rates is at the same time getting harder. If you don't use a Channel Manager yet, we recommend you start looking for one. It will make it easier to automatically update your room availability to all connected booking sites and you can easily ''play'' with the rates, paying attention to the current supply and demand. Want to make your daily business easier? Don't hesitate and give us a call, we are more than happy to inform you and help you move forward.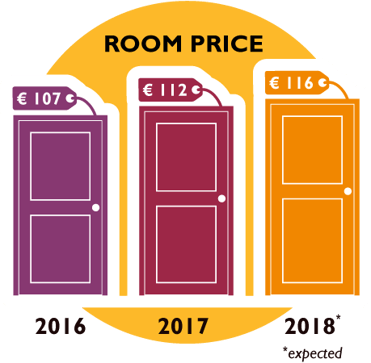 Occupancy rates keep rising, and thus a rise in room rates and revenue is inherent to it. More detailed results of this research can be found via HOSTA 2018.
About SmartHOTEL
For more than 16 years, SmartHOTEL has been helping hoteliers navigate the exciting world of online distribution. From our office based in the Netherlands and the United Kingdom, our team serves independent hotels, hostels and chains worldwide by providing channel management and tailored online distribution solutions. A lot has changed over the last years, but our goal remains the same: simply connect hotels to the world. For any questions regarding our services, please contact us at sales@smarthotel.nl or call +31 (0)182 75 11 18.
Share This Story, Choose Your Platform!