Okay, here's a secret: at SmartHOTEL we sometimes dream about owning a hotel. That's why on a Friday afternoon, my colleague Marina and I were brainstorming about what would make our dream hotel a real eye-catcher. We certainly don't mind a regular double room, but we agreed that in five years we probably wouldn't remember anything about that room. So that's when we decided that our dream hotel has to be unforgettable. While thinking of some options, we realised there are three themes you can focus on; branding, services and location.
Branding
Nowadays all hotels are claiming to be the best, but that doesn't really differentiate one hotel from the other. Especially in big cities like Amsterdam where it's hard to stand out, that's why The Hans Brinkers Hostel decided to apply some reverse psychology. They claim to be ''The Worst Hostel In The World'' and are using this statement for branding purposes (check this article). Ironically this statement made them famous in the hotel industry.
Hotel Con Corazon has a different kind of branding. They've built their hotels with crowdfunding and invest all of their profit into education so kids in Latin-America can go to (and finish) school. At the same time, work needs to be done in the hotels, which provides jobs for the locals. A hotel with heart for the community!
Services
The chain a&o Hostels went a different way and decided they wanted to stand out with their service. You can voluntarily forego the daily cleaning of your room, and in return you get a free drink at the bar. It's a win for the guest but, most of all, a win for the environment. In two months they had 10.000 fewer rooms to clean, saving 75.000 litres of water, 708 kWh electricity and 20.000 garbage bags!
Another example is Hyatt's Andaz brand, which offers luxury boutique hotels with a twist. When you stay at one of the Andaz hotels, you won't find the traditional reception desk. Instead, hosts are walking around to welcome new guests as they arrive. While you are sitting in a comfortable chair, enjoying a drink, the host does your check-in on a tablet. When you're ready, the host will guide you to your room.
Location
After signing a contract with a new hotel, our consultancy team are the first ones to check out the hotel online. We have seen some memorable hotels in the past few years. For example, Hotel Vrouwe van Stavoren (sleep in a wine barrel), Inntel Hotels Amsterdam Zaandam (stacking of various traditional houses to be found in the Zaan region) and also LEGOLAND Castle Hotel (a life-size LEGO themed castle) are just some of our favourites.
Of course, there are many other unique locations, like sleeping in a treehouse, waking up in a safari park with a giraffe just a few metres away from you, aeroplanes that are converted into hotel rooms and special themed rooms of your favourite action hero. Some locations are spectacular, some a bit crazy, but they surely are mesmerising and memorable.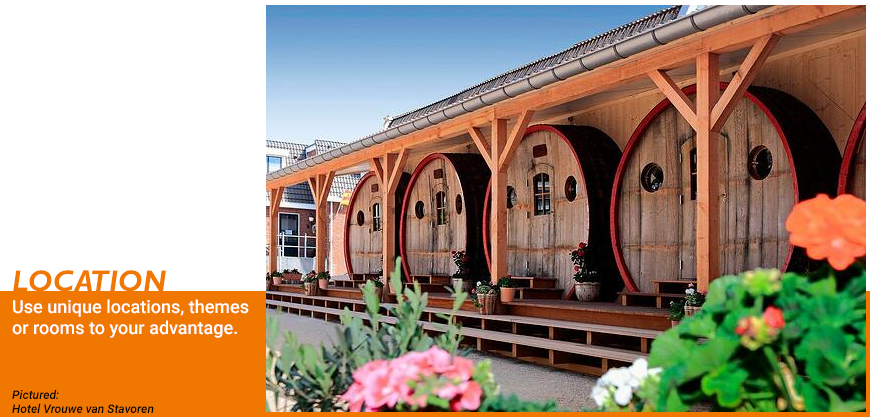 Conclusion
Our conclusion? You can go all the way with these themes, but make sure that you don't lose yourself on the way. In the end it's still your hotel, a product that is close to your heart and in which you can fully express your passion. If that's not the case, guests will not feel that passion either. Meanwhile, we keep dreaming about our own hotel.😉
About SmartHOTEL
For more than 16 years, SmartHOTEL has been helping hoteliers navigate the exciting world of online distribution. From our office based in the Netherlands and the United Kingdom, our team serves independent hotels, hostels and chains worldwide by providing channel management and tailored online distribution solutions. A lot has changed over the last years, but our goal remains the same: simply connect hotels to the world. For any questions regarding our services, please contact us at sales@smarthotel.nl or call +31 (0)182 75 11 18.
Share This Story, Choose Your Platform!