Education in the Latest Digital Media & Communication Trends
Yes, you are reading this correct! SmartHOTEL is going back to school. Why? Because knowledge is power. It might be a big cliché, but that doesn't make it less true. It is the fuel of our company and the reason why we keep close connections to educational institutes like Hotelschool The Hague and Hogeschool Utrecht. It can be very useful to let young professionals give a fresh look at your company. Sometimes a company can get so caught up in current projects that it's easy to miss out on trends or keep an open mind to new insights.
Students of the bachelor program Digital Media & Communication are doing research on how to optimize the tools that we use for our internal communications, using the latest technology trends. They just finished the first semester and presented us their initial conclusions and recommendations. We were wowed by the quality and diversity of the results. It's fun to see how much these recommendations can differ. One group wrote a concept for a self-learning user system based on artificial intelligence while the other group practically had a whole specification document ready for building an integrated app. Some other creative bees made a whole new application design, including a Tamagotchi app for taking care of Fay, our Office Dog, and Gunther, our Hamster.
Online Distribution 101 course
This project led to a bunch of other questions for the students. What products and services does SmartHOTEL exactly offer? What is a channel manager? And who uses it? The students' lecturer decided they should try to map and visualize the Online Distribution landscape. Being a newbie myself in the software business for the hospitality branch, I almost felt a bit sorry for these students. The Online Distribution landscape is diverse and complex. Not to mention all the different terminology; OTA, GDS, CRS, PMS, OBE, RMS… My first introduction to the world of Online Distribution was at ITB Berlin 2017. My head was spinning, and that wasn't just because of the many receptions and parties.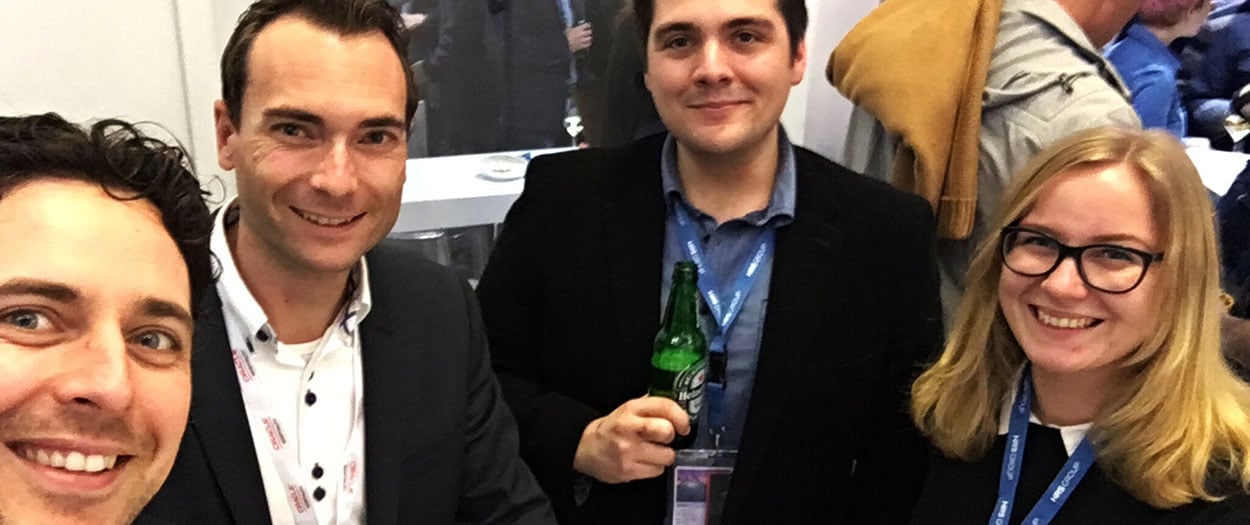 Luckily our knowledge provider Victor stopped by to give an Online Distribution 101 course and to answer all their questions, keeping the students active by using relatable examples of the different uses of hospitality software during his experience working in the hospitality industry. There is nothing like a good story about working as an hotelier on the party island of Kos to get a student's attention and understanding.
Now it's up to the students to make and visualize their own interpretation. Good luck! We can't wait to see the end results.
About SmartHOTEL
For more than 16 years, SmartHOTEL has been helping hoteliers navigate the exciting world of online distribution. From our office based in the Netherlands, our team serves independent hotels, hostels and chains worldwide by providing channel management and tailored online distribution solutions. A lot has changed over the last years, but our goal remains the same: simply connect hotels to the world. For any questions regarding our services, please contact us at sales@smarthotel.nl or call +31 (0)182 75 11 18.
Share This Story, Choose Your Platform!