How is Booking.com preparing for 2020?
Booking.com is dominating the Hospitality Industry for almost 20 years now. In 1998, Bookings.nl was founded in The Netherlands. The American Hotel in Amsterdam was the first hotel to sign up. The first booking was made in 1998 and the first employee was hired that same year. Between 1998 and 2005 several local offices opened in the UK, France, Spain, Portugal and Germany. In 2005 Booking.com became part of the Priceline group and in 2006 Booking and Active Hotels officially formed Booking.com. Today, Booking.com is employing over 13,000 online travel specialists and has onboarded 1,200,000 accommodations (38% via xml) in more than 220 countries. This results in 1,200,000 room nights every 24 hours.
Booking.com Connectivity Exchange event
As a Preferred Partner, SmartHOTEL has been invited to the annual Connectivity Exchange event. With some of their most valued partners, I was given the opportunity to meet with the Booking.com leadership team and their specialists to learn even more about this great company!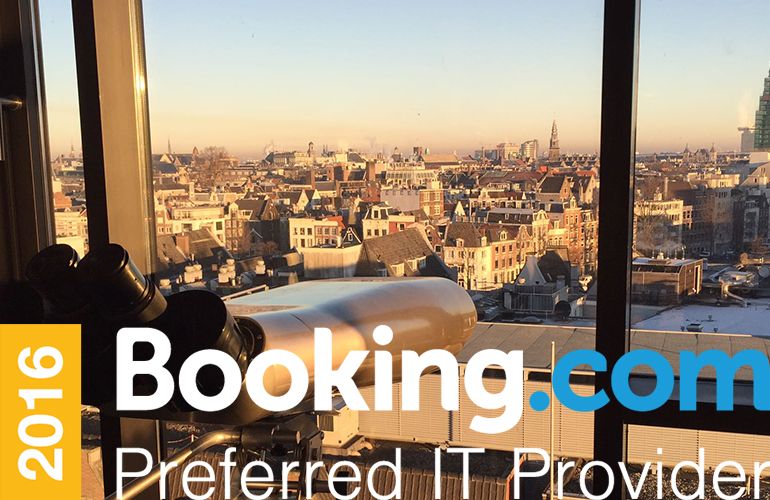 On this event, Booking.com presented their vision & strategy and provided the opportunity to interact with a range of booking experts, exchange information about online distribution and discuss a variety of topics that are most relevant to today's travel industry.
Booking.com was very interested in our experience and expertise, keen to get feedback and discover how we could nurture our relationship, moving forward in helping hoteliers and realizing better guest experience. During workshops, we discussed topics such as; how can we enhance hotel partner experience together? What can we do to improve the hotel's performance by innovation and last, an open round table resulting in a more joint model of working together with focus on customer satisfaction.
As Booking.com is a high valuable partner of SmartHOTEL, we pay a lot of attention to how today's world market leader is running their organization:
Focussing on experimenting (1000+ pending daily)
Working together (50+ independent code updates daily)
Keeping the customer at the centre of everything they do (opportunity dashboard)
Being humble, open and friendly (focus on customer care)
Getting things done today (innovation)
Those core values are helping the big 'tanker' to stay flexible and move fast without having a man over board. Beside the fact that it seems like Booking.com does everything on its own, nothing could be further from the truth; Booking.com has also noticed that the need for partnerships is increasing.
Booking.com business model
Booking.com's business model consists of 3 principles;
Demand is formed by potential guests, supply is partially provided by technology partners (xml) and the store consists of the Booking.com customer journey (its booking platform). At this point Booking.com is working with 367 connectivity partners in EMEA region. Together with Booking.com, they supply 222,400 properties via XML in Europe.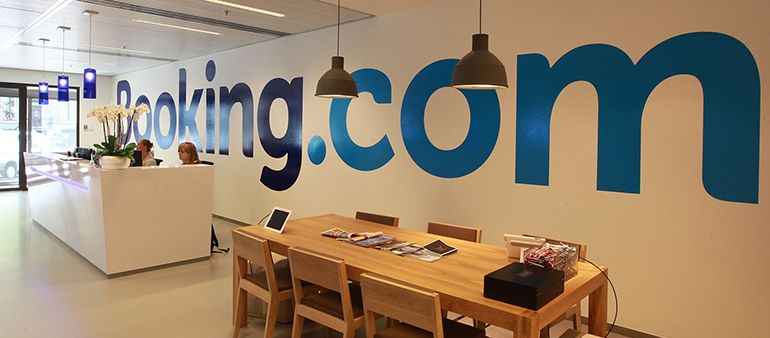 Having said this, Booking.com will pay more and more attention to its preferred partner program by introducing a technical score to rank the quality of the integrations. This will result in a shortlist of preferred suppliers that really make a difference in the industry. A joint model that will help technology partners to differentiate, help hoteliers to have seamless connectivity and help Booking.com to fulfil demand with even more supply.
Let's make a difference together, a customer orientated head start for 2020!
Talking about making a difference, what do we need to work on to prepare ourselves for 2020?
Mobile bookings seem to be key in this. The current figures show us that 1/3 of all reservations are made on mobile devices. Last minute bookings will go hand in hand with mobile technology, so customers will increasingly book a la minute. To adapt to this trend, SmartHOTEL's advice for hoteliers is adding more 'no credit card' rates to OTA's. Last minute bookers will convert much better by taking away those barriers and a simplified booking process.
The conclusion of the Connectivity Exchange is that we all agreed on the three pillars Booking.com has marked as focus areas for the future:
Shift from Technical to Partner Orientation (customer success)
Experiment, Learn then Scale
Move to a Joint Model (partnerships, knowledge sharing)
In the end, it will be interesting to investigate what this strategy will bring for the hotelier and how SmartHOTEL can assist in this, being specialized in Oracle system integrations:
Handpicked 2-way optimized connectivity for Oracle PMS systems (Oracle gold partner)
Unbeatable free service (100% in-house hospitality experts)
More than just a product; being involved in OTA innovations (Booking.com, Expedia.com, HRS.de)
If you would like to know more about our preferred partnership or about our culture, we would love to invite you to get in touch!
Derreck Weterings - Customer Success coordinator & Stakeholder connectivity
---
How to get the most out of your channel manager.
In an increasingly complex online hospitality world it will only get more difficult to get noticed.
How to get the most out of your Channel Manager and select the right online distribution partner.
Read it in our free blog: "The S² model of successful hotel distribution".


Bewaren
Bewaren
Share This Story, Choose Your Platform!