Growth in the number of connected hotels resulted in a constantly increasing amount of data on our platforms. This development forced us to take a closer look at our hosting situation, which ultimately led us to Microsoft Azure. As a more scalable and low maintenance platform for cloud hosting, Microsoft Azure was our best choice. The scalability would enable us to spend more time on what we are good at: Developing hospitality solutions that help hoteliers having more time for what matters to them: their guest!
SmartHOTEL is a small, but constantly growing, company (+/-25 employees). Frequently the marketing department helps out on support and other way around. Being a ´smaller´ company we sometimes look with envy at bigger companies that seem to have an abundance of both employees and budget. But apparently grass does indeed seem to be greener on the other side. Microsoft, one of the "bigger" companies, liked our dedication, work ethic and Holacratic organizational structure. That is why they wanted to shoot a reference case movie about SmartHOTEL. A movie about how SmartHOTEL used Microsoft technology in their daily business helping hotels of all sizes.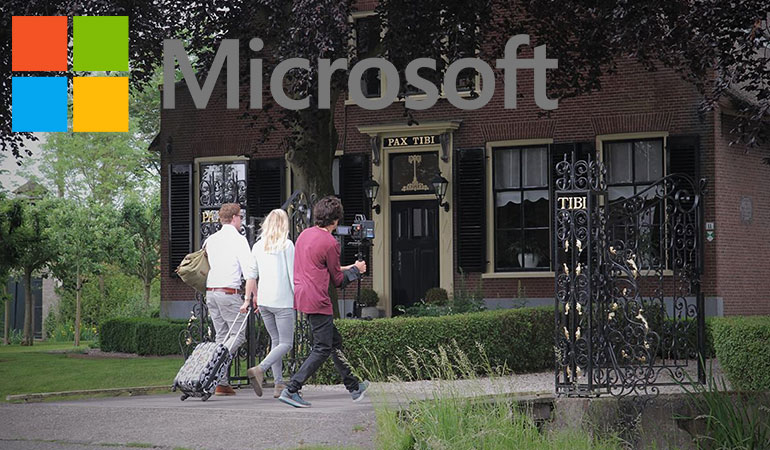 In the past, we did make some promotional and animation movies, but never as professional as this one. The reference movie was eventually shot two weeks ago and boy have we learned from it. If you ever intend on shooting a corporate or reference movie, please read the lessons we learned from it:
Mise en place
You know what you are selling and you know what the company stands for, but try to summarize that in one catchy sentence without a single 'eh'. In hospitality we call it mise en place, but in business we simply say: prepare! We understood that typing out every word you would like to say is not the best way to prepare. Just read the scripts thoroughly and try to focus on the essence of the message that you want to get across.
Wear No Stripes
Do not wear any striped clothes as stripes start jumping on camera. Together with your nerves dancing around it just becomes too much.
Products are Boring
Think of the market you are serving. Who are you helping out? In our case it's hoteliers and other software companies. Point is that software solutions are very boring and not attractive to talk about as people can't relate to them. Discuss what problem your product solves and how it helps your customers. In our case: We help hoteliers serving their guests better (and we do this by developing great and user friendly software).
Bring Same Clothes
We shot 4 scripts with 20+ scenes in two days. This can result in having to shoot a specific scene on one day and another scene from the same script on another day. In order for the viewer not to get confused make sure you wear the same clothes in the same scripts. In other words, take several sets of clothing with you during the all production days.
Tell your Story
Everyone and every company has a story: share it! It is your story that sets you apart from the rest of the market. Our story started in 2004 with a Point of Sale system. The system used a touchscreen which was quite modern for that time. Technology evolved and with more online bookings sites popping-up we were happy to jump aboard the train of Online Distribution. Technology changes rapidly, but SmartHOTEL's vision to help hoteliers serving their guests never changed.
Prepare to wait
Even though it sounds exciting, we found out that shooting a movie involves a lot of waiting. That did give us the chance to get out of the office and talk with our customers about their challenges. The movies were shot at two very different hotels that in the end are driven by the same motivation; make guests feel truly welcome.
Many thanks to B&B Pax Tibi in Reeuwijk and Mainport in Rotterdam for their hospitality and hosting us during production days.
Shooting the reference case was a great way of cooperating with Microsoft as well as our existing customers. We cannot wait to see the results. Are you as excited as us? Connect with SmartHOTEL on our social channels.
- Written by Quinten Gazendam & Sebastiaan Ipenburg
About SmartHOTEL
For more than 16 years, SmartHOTEL has been helping hoteliers navigate the exciting world of online distribution. From our office based in the Netherlands, our team serves independent hotels, hostels and chains worldwide by providing channel management and tailored online distribution solutions. A lot has changed over the last years, but our goal remains the same: simply connect hotels to the world. For any questions regarding our services, please contact us at sales@smarthotel.nl or call +31 (0)182 75 11 18.
Bewaren
Bewaren
Bewaren
Bewaren
Share This Story, Choose Your Platform!