How many OTA's do you have connected? How much time does it cost you to keep these channels up to date? It can be valuable to check whether the time invested is also reflected in revenue. As a consultant, I regularly get the question which OTA I would recommend. Because of this, I started to play around with all the data we have in our Channel Manager. It turns out I have some quite interesting facts for you!
Top 3 booking sites
It probably comes as no surprise that Booking.com and Expedia are the two biggest OTA's for the hoteliers connected to our system. The two OTA's have the most connections, and they generate the most reservations as well.
The 3rd most popular OTA in the Smart Channel Manager is HRS. They might have many hotels connected, but what's remarkable about this OTA, it that they are not the 3rd when looking at the average amount of incoming reservations. They are not even in the top 10!
So, which OTA does belong in the top 3 of most generated reservations on average? That's Hostelworld. There are just a few hotels in our system that have a connection with this booking site, but the return on investment is magnificent.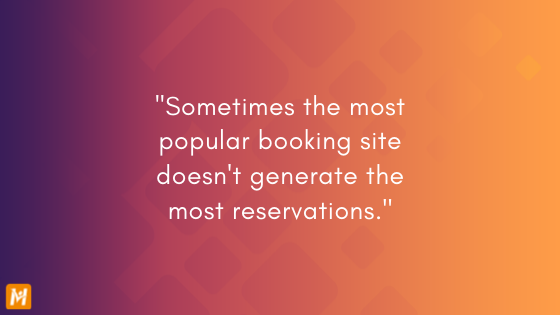 Ask for advice
It can be that an OTA is very popular in the hotel industry and has many hotels connected, but the amount of incoming reservations is meagre. Meanwhile, it can be that another OTA with fewer connections generates way more bookings.
Before you start investing time and energy in setting up a new OTA connection, it might be interesting to ask for some advice from the consultancy team first. Of course, you can also request this information from the booking site, but make sure to get the right data to get full insight (total amount of hotels connected and the total amount of reservations).
Don't get me wrong; I know that revenue is not the only element to take into account when reviewing your online distribution flow. Maybe you want to create more online visibility, and it's also possible that an OTA gains popularity from guests. It could, however, not do you any harm reviewing your channels once in a while. 😊
In conclusion, after reading the above, do you still think all of your connected OTA's have a positive return on investment?
Inspired to review your OTA connections?
Whether you are a SmartHOTEL Channel Manager customer or not, we'd love to share our knowledge on our OTA partners and review your channel mix with you. Leave a message on our contact page to plan a consultancy call about your Online Distribution strategy.
About SmartHOTEL
For more than 16 years, SmartHOTEL has been helping hoteliers navigate the exciting world of online distribution. From our office based in the Netherlands, our team serves independent hotels, hostels and chains worldwide by providing channel management and tailored online distribution solutions. A lot has changed over the last years, but our goal remains the same: simply connect hotels to the world. For any questions regarding our services, please contact us at sales@smarthotel.nl or call +31 (0)182 75 11 18.
Share This Story, Choose Your Platform!